Enjoy Mayco's latest colors hot out of the kiln. Sure to fire up your work.
 2019 STONEWARE GLAZES
A strong addition to our classic, matte and crystal Stoneware glazes! Rusted Iron displays the perfect semi-matte, rusted surface with colors of metallic oranges and brown. Sandstone uses SW-172 Macadamia, a very popular glaze from last year's release, as its' base with the addition of crystals that melt into a variety of blue and purple shades. Raspberry Mist is bold and bright with shades of dark and light pink. Fool's Gold has tiny, gold metallic flecks in a rich brown base. All AP Non-toxic, Food Safe and Dinnerware Safe. Available in Pints.Introducing a collection of highly-pigmented gloss glazes, inspired by the popular Fiestaware colors. The stable qualities of these glazes make them ideal for design work and full opaque coverage at mid-range and high temperatures. These glazes will be available in Pints. AP Non-Toxic, Food Safe and Dinnerware Safe.We are seeing texture everywhere and predicting these highly-textured glazes to be a showstopper at NCECA this year. The two Mudcrack glazes form a raised, cracked surface and the two Magma's create a rough, cratered surface that becomes thicker with additional application. These glazes will be available in Pints. AP Non-Toxic but not recommended for dinnerware due to the surface.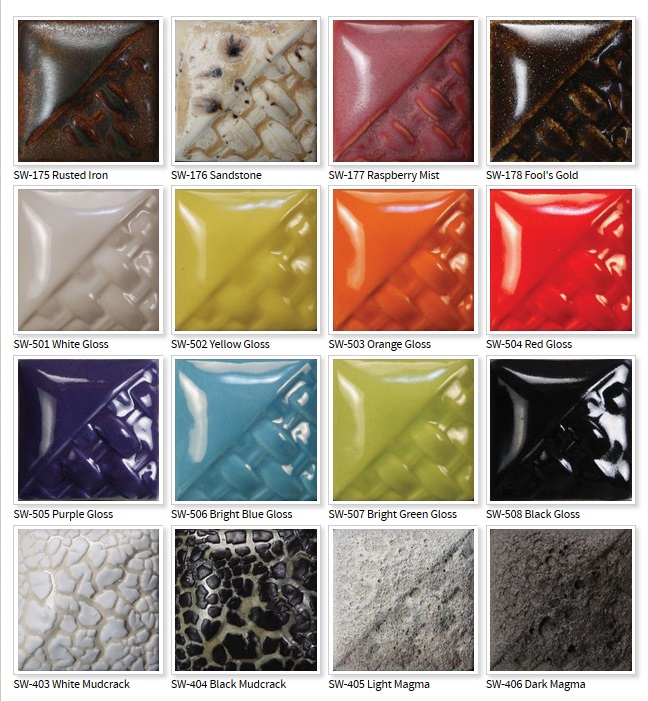 Vanaf nu verkrijgbaar in onze webshop!!